Nicole Chamberlain is an Atlanta composer and flutist on the rise. Her works have been commissioned and performed by the Atlanta Opera, Georgia Symphony Orchestra, Alias Chamber Ensemble, Winthrop University, and many others. Nicole is always looking for new commissions and performance opportunities!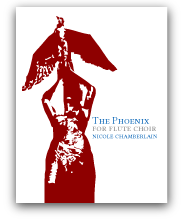 11.16.2015
The Phoenix for flute choir, commissioned by Atlanta Flute Club, and premiered at the 10th Annual AFC Flute Choir Extravaganza, Sheet music is now available here

11.09.2015
2015 ASCAP Plus Award Winner!
09.22.2015
Commissioned by Oklahoma Flute Society to compose work for unnaccompanied work for their 2016 Collegiate Competition. Premieres at their 2016 Flute Fair on April 1, 2016.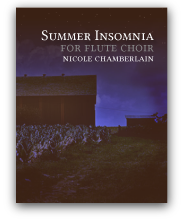 08.13.2015
Summer Insomnia for flute choir, commissioned by Flute Choir of Atlanta directed by Kathy Farmer, and premiered at the 2015 National Flute Association Convention in Washington, DC. Sheet music is now available here

07.30.2015
Commissioned by Dr. Shelley Martinson to compose work for flute and trombone to be premiered Summer/Fall 2016.

07.28.2015
Semi-finalist for The Project Trio's 2015 Composition Competition. More details soon.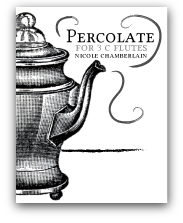 07.13.2015
Percolate for flute trio, winner of the Flute View's 2015 Composition Competition available here

06.24.2015
Interviewed by The Flute View about being a composer and flutist in a live radio podcast. They also asked me to answer some questions via YouTube that you can check out below:
06.08.2015
Winner of The Flute View's 2nd Annual Composition Competition for composition Percolate
05.24.2015
Commissioned by the Atlanta Flute Club to compose flute choir work to be premiered at the 10th annual Flute Choir Extravaganza on November 15, 2015 at at 3pm Saint Martin's Episcopal School, 3110-A Ashford Dunwoody Rd, Atlanta, GA 30319
05.06.2015
Flutist Denise Rotavera-Krain wrote a lovely article about adventures in learning my piece Chatter for two flutes. You can read the article here - "Preparing Chatter by Nicole Chamberlain - Spitting Encouraged"
04.27.2015
Mention in the National Flute Association's Flutist Quartlerly magazine for winning 2nd place in the Flute New Music Composition Competition for French Quarter for flute quartet.
02.02.2015
Gay Lynn Westover (Physical Therapist & Sister) and I have been selected to present "When Tooting Your Flute is a Pain in Your Neck" at the Atlanta Flute Fair and the National Flute Association Convention. I will also be conducting the Atlanta Flute Club's Middle School Honors Flute Choir at the Atlanta Flute Fair.
12.02.2014
Commissioned by the Flute Choir of Atlanta, under the direction of Kathy Farmer, to compose flute choir work to be premiered 2014-2015 season.
11.08.2014
My composition French Quarter for flute quartet won 2nd place for the 2014 Flute New Music Consortium Composition Competition.
10.25.2014
Recipient of ASCAP Plus Award 2014!
10.09.20014
Fisticuffs has been selected to be performed at the NACUSA National Conference at Georgia State University in November!
5.18.20014
Selected composer as part of the Wilderness Act Performance Series.
5.15.20014
My pieces Elasticity and Ogeechee were featured on the Musically Notable Blog.
3.13.20014
I was interviewed by Tim Crump for the Atlanta Creative Music Podcast. You can hear the interview along with clips of my work by clicking here.
2.28.2014
If you attended my workshop "Beatboxing to a Better Bach" at the 2014 Atlanta Flute Fair and didn't get a handout, you can download the handout here: http://nikkinotes.com/PDF/BeatboxBachBook.pdf Thanks for attending! It was nice to teach to a standing room only crowd!
2.24.2014
I am one of the composers being commissioned by the Clibber Jones Ensemble, but they need a little money to commission all 9 composers. You can donate here.
12.30.2013
Selected as a presenter at the 2014 Atlanta Flute Fair. Presenting "Beatboxing to a Better Bach" workshop.
10.14.2013
Recipient of ASCAP Plus Award 2013!
08.05.2013
Looking for my quartets you heard at NFA Convention this year in New Orleans? You can find them here: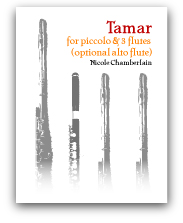 08.02.2013
Article about Perimeter Flutes concert tomorrow and our journey to the NFA Convention next week!http://www.artsatl.com/2013/08/preview-perimeter-flutes-showcase-local-music-saturday-head-orleans/
07.18.2013
Tamar and French Quarter will be performed at the National Flute Association Convention in New Orleans, LA this year!
07.17.2013
Video clips of opera "Rabbit Tales" performed and produced by the Atlanta Opera now available: Watch videos .
07.03.2013
Featured on ComposersCircle.com for Trajectory.
05.24.2013
2013 Winner of the Areon Flutes Composition Competition which includes a commission for the trio to be premiered in the 2013-2014 season!
03.16.2013
Check out a live recording of the Dahlia Flute Duo and cellist Pablo Issa Skeric performing Trajectory. Click here to listen
03.10.2013
The premiere of "Trajectory" was snowed out on March 9. The premiere will take place this Saturday (3/16) at 7pm!
03.03.2013
Jammin' out on the contra bass flute this weekend at the JSU flute festival:
01.29.2013
Performing with Perimeter Flutes at the National Flute Convention in New Orleans, LA in August!
01.10.2013
Received commission from Wesleyan Middle School Band under the direction of Dr. Ruthie Colegrove to compose a piece for band that will premiere May 9th!
01.01.2013
Fisticuffs for two flutists and two percussionists is now up for sale. Flutists can finally take out your passive aggressive anger out on those annoying percussionists that always ask for your help to move their heavy high maintenance instruments!
12.22.2012
Recording of Fisticuffs for for two flutes and two percussionists is now available. Performed by members of Chamber Cartel: Teresa Feliciano (flute), Olivia Keiffer (percussion), Caleb Herron (percussion) and myself (flute).
12.18.2012
You can now listen to a live recording of Movement for flute, clarinet, cello, and piano! You can listen to the recording as well as purchase score and parts here.
11.17.2012
Got the recording of the world premiere of Ogeechee! You can listen to the recording as well as purchase score and parts here.
10.08.2012
Recipient of ASCAP Plus award 2012!
09.26.12
It's getting closer to that time of year where we have to start thinking about Christmas gigs. So how about Away in a Manger for flute and piano?
09.04.12
Hey Flute students! GMEA videos are now up for etude #1 on the Student Resources page.
06.08.12
Hopewell for band and Chatter for two flutes will be performed at the 2012 SCI Region VI Conference at West Texas A&M on October 5-6. See y'all in Texas!
05.24.12
I have been commissioned to compose a piece for the Georgia Symphony Orchestra. The work will be premiered on October 13, 2012
05.01.12
Nicole is the latest addition to Perimeter Flutes. You can check out the new website www.perimeterflutes.com Stay tuned for upcoming performances!
03.05.12
Here are some clips from Chamber Cartel's performance of "songbirdsongs" on Wednesday http://www.chambercartel.com/Chamber_Cartel/Sound/Archive.html Stay tuned for next performance!
02.27.12
I will be performing John Adams "songbirdsongs" with Chamber Cartel on Wednesday (2/29) at 8pm at the Goat Farm. www.chambercartel.com Donations encouraged for admission.
02.24.12
The Atlanta Opera will be performing my opera "Rabbit Tales" Sunday (2/26) at 3pm at Decatur High School's Auditorium. Tickets are $6.